Catering
Handpicked ingredients, exquisite recipes, flawless preparation
Seasonal prime-quality local products. Mediterranean traditions revamped to delight all tastes, even the most demanding. Try our gastronomic offer at Restaurant Terrassa 4 Capellans and Bar Terrassa 4 Capellans: spaces and proposals that will surprise you.
We work with local providers who have created social and labour insertion projects such as La Fageda. #HotelBarcelonaCatedral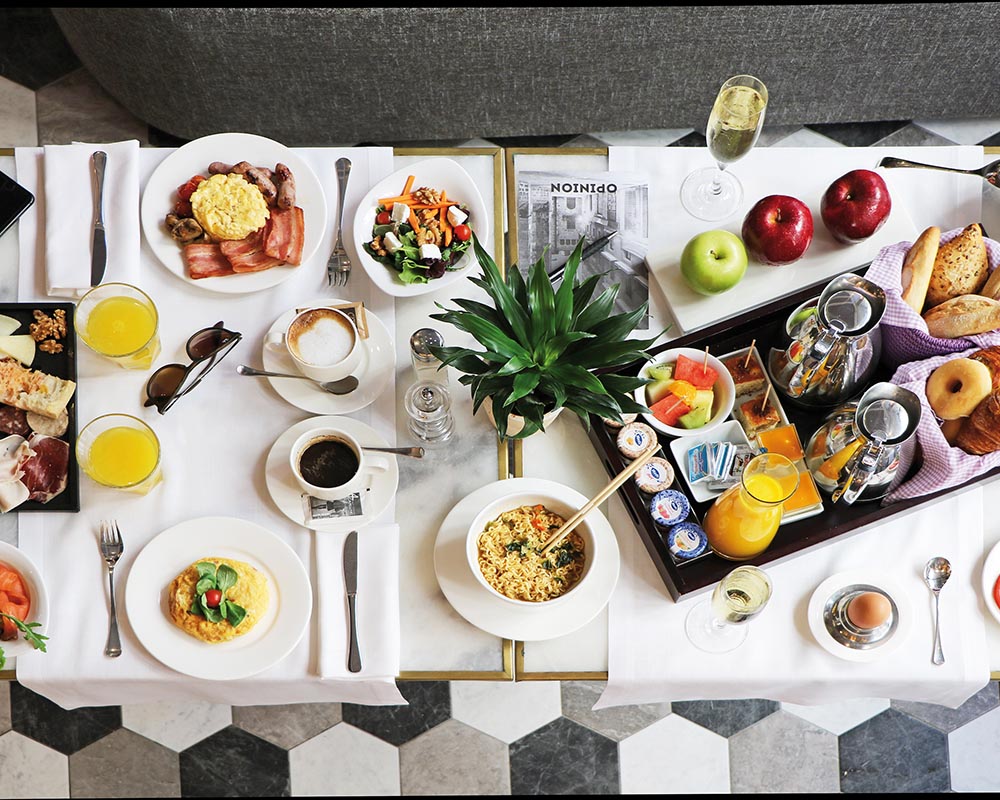 Breakfasts
À la carte breakfast: from 7:30 to 11:00. Restaurant Terrassa 4 Capellans Express Breakfast Formula: from 9:30 to 12:00. Bar Terrassa 4 Capellans
À la carte breakfast – and what a carte! You could have breakfast for several weeks and never repeat the formula. We offer variety, quality, tradition and innovation. And if you're vegan, coeliac or lactose-intolerant, you only have to let us know; we have options for you too. What would you like for breakfast?
If your stay coincides with one of the traditional gastronomic calendar dates, you can also try some of the following traditional sweets:
6 January: Roscón de Reyes ('King cake')
Easter Sunday: Mona de Pascua ('Easter cake')
23 June: Saint John's Eve coca pastry
1 November: Panellet cakes
25 December: Neula biscuits and turrón nougat
Restaurant Terrassa 4 Capellans
Monday to Friday at midday Opening hours: from 13:30 to 15:30
Closed on Saturdays, Sundays and holidays
Open all year for celebrations
The first thing you'll fall in love with is the space: sophisticated, elegant, with a touch of avant-garde and a splash of vintage. A freshness and casualness that you'll see reflected in the menu: Mediterranean cuisine made in accordance with 21st-century standards, using traditional recipes as well as our own creations, prioritising local seasonal products but always taking modernity into consideration.
Weakly menu and à la carte option, with alternatives for coeliacs, and a children's menu. We are aware of the importance of food intolerances and we want you all to be able to enjoy our cuisine. That's why we can adapt our meals to your special needs.
A sample: Cod au gratin with garlic and almond aioli; Millet salad with chickpeas, sweet and sour peppers and hummus vinaigrette; Roast beef salad with raspberries and old-fashioned mustard…
Our priority is to offer a sustainable, balanced and healthy cuisine. We mean it: 70% of our products are zero-km. #RestauracioSostenible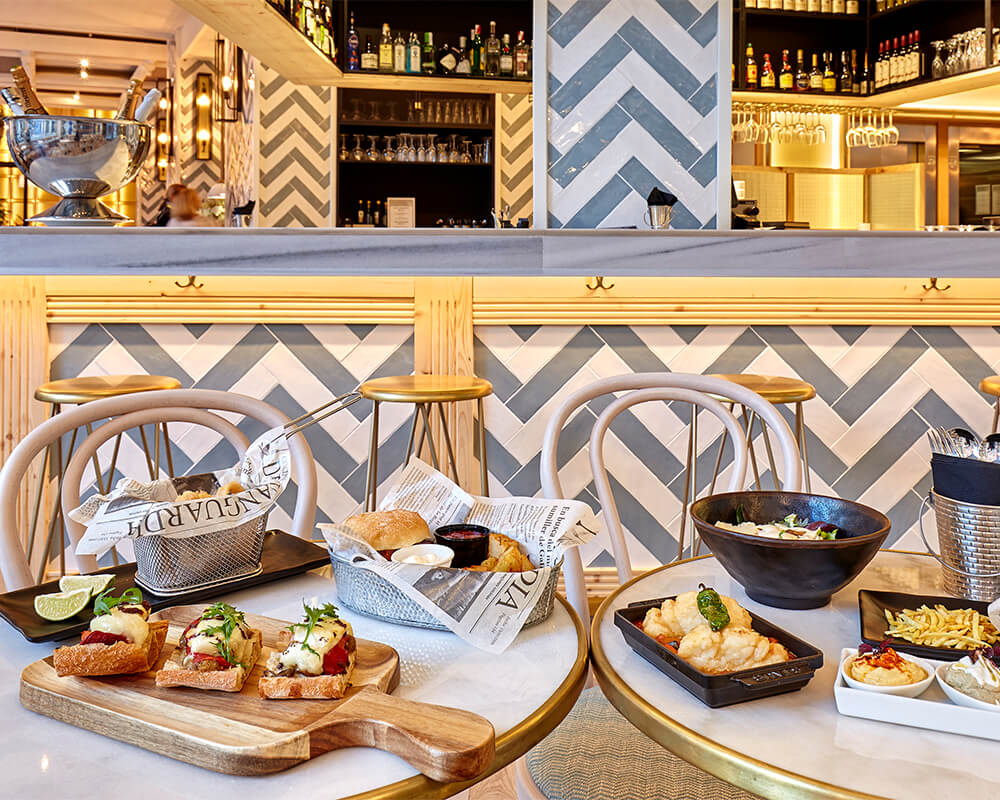 Bar Terrassa 4 Capellans
Bar: from 9:30 to midnight
Bar menu: from 12:00 to 15:30 and from 19:00 to 22:30
Chill-out terrace: from 7:30 to 23:00
From the first cup of coffee in the morning to the last drink at night; from an afternoon snack to an evening beer; from tapas to breakfast, dinner or even an informal supper, we'll be waiting for you at Bar Terrassa 4 Capellans.
In this charming outdoor space with an awning and exuberant vegetation, you can relax and chat with your friends while you try one of our dishes or enjoy a cocktail.
We have traditional tapas, salads, cured meats and cheeses, macrobiotic options, burgers, pasta, coca pastry with oven-baked peppers and aubergines, or yakitori chicken skewers; it is all made mostly with seasonal, high quality, local products, and we have options for vegans and coeliacs.
Don't wait any longer and come stay with us!
We love the Mediterranean cuisine and that is why we incorporate into our menus a wide variety of vegetables and whole foods. We cook with olive oil. #RestauracioSostenible